5 predictions we're ready to make true
Lisa Heyamoto, GNI Startups Lab Program Manager, LION Publishers
True equity means ownership by Tonya Mosley and More journalists of color become newsroom founders by John Ketchum
(Prediction#2 for LION Publishers favorites from the annual Nieman Lab predictions)
Our crystal ball was pretty well shattered by 2020, but there's one part of the future that is already coming into focus.

Tonya Mosley writes that "for far too long, newsroom leaders have been wringing their hands over how to serve Black and Brown communities." The prediction? More journalists from those communities will start media companies of their own.

That's something we've been seeing — and supporting — at LION. Of the 24 graduates of our GNI Boot Camp, 14 are focused on authentically serving communities who have not been well served by other media.

There's Dot Diaspora and 9 Millones, which connect the African and Puerto Rican diasporas.

There's Bayou City BLK, Unpacked LA, BELLbulletin and The Daily 219, which serve Black audiences in Houston, Los Angeles, Arizona and Lake County, Indiana.

And, among others, there's More Muslims in Politics, The Black Sportswoman, Austin Vida, Black Women Unmuted and Queerency, whose names reflect their missions.

Founding organizations is an important step. Now comes a collective commitment to meaningfully support them. We've formed the Tiny News Collective, in partnership with News Catalyst, to help get new businesses like these on their feet, and are encouraged by conversations about funders moving beyond supportive statements.

Because "statements are cool," John Ketchum writes, "but putting action — and money — behind your words would go much further."
---
BELLbulletin is one of 24 news projects (selected from 259 applications received over a six-week period) benefiting from intensive coaching from LION Publishers inaugural Google News Initiative Startups Lab Boot Camp.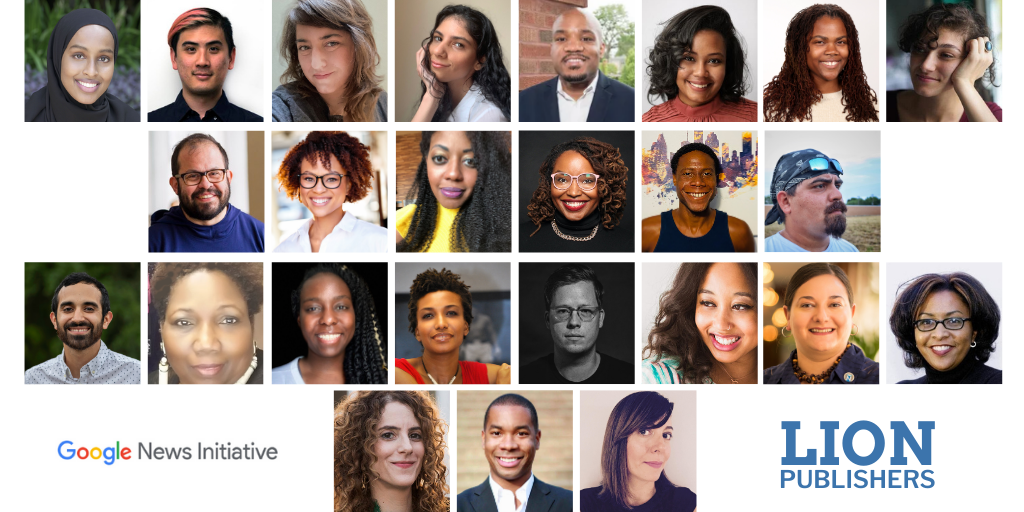 Background On The Project
We're in a unique moment in time: local news is shrinking but the interest in high-quality local news is growing. While journalists continue to be laid off, and many local news publishers are struggling to figure out their long-term financial sustainability, there's increased interest in creating digital-first news publications to keep communities informed.
But, up until now, there have been very few affordable programs focused exclusively on the practical steps of launching a new venture that is tailor-made for journalism initiatives.
To tackle that problem, the Google News Initiative has partnered with LION Publishers to launch the GNI Startups Lab, an effort that will help aspiring news entrepreneurs in the U.S. and Canada prove there is a need and audience for their idea, build their news product and set their business on the path to sustainability.
Listen to an interview with Erika Alexander, co-founder and chief creative officer of Color Farm Media (and known for her character Maxine Shaw from the '90s sitcom "Living Single"), about the boot camp.
How Applicants Were Selected
There were too many good projects to choose from. More than 70 percent met LION Publishers core eligibility criteria for the program: the applicants are based in the U.S. or Canada; the project is primarily a journalism effort; the focus is local news or single-subject coverage.
Eligible applications were first reviewed and ranked by a small team from LION Publishers and Google News Initiative, and 60 were advanced to a review panel, which included representatives from Color Farm Media, Google News Initiative, LION Publishers, Maynard Institute and PressOn. The judges had the (very difficult) task of selecting just 30 projects to advance to the final review stage. From there, the original small team from LION and GNI, with boot camp director Phillip Smith's input, selected the final 24.
GNI Startups Lab Phase 1
In July 2020, the GNI partnered with LION Publishers to launch the GNI Startups Lab. Phase one of the Startups Lab focused on an eight-week journalism entrepreneurship boot camp, providing hands-on support to become independent, and stay independent.
Learn more about the vision for the bootcamp; what made for a great application; and the curriculum over the eight weeks.
GNI Startups Lab Phase 2
As the inaugural cohort continues down a wild and worthy path, LION will support them through several resources, including: a reading list; quarterly coaching; access to the LION community, a knowledgeable and engaged group of independent founders and publishers; a weekly newsletter; information sessions; and more.
To build on the success of the Boot Camp, LION is preparing to launch the GNI Startups Lab, a six-month program that will provide a small group of existing digital news startups with coaching and capital to help put them on the path to sustainability.
The organization also is teaming up with News Catalyst to help incubate 500 local news startups in the next three years through the Tiny News Collective, a collaboration designed to make news entrepreneurship more accessible by lowering the barriers to entry.
Source: LION Publishers
---